Since 1971, Kantronics has earned a worldwide reputation for superior wireless data controllers. From our first RF packet modems, Kantronics has designed and manufactured a succession of products known for effective solutions to wireless data control tasks.
Due to uncompromising manufacturing standards and quality control methods, the Kantronics brand has won overwhelming respect from customers with demanding wireless information needs. More recently, Kantronics has expanded its unique technology to commercial wireless data applications, bringing its leadership reputation to this rapidly growing market.
Building on its 47-year history, Kantronics has been successful in bridging the gap between the wireless analog and digital worlds. We excel in these electronic hardware/firmware product groups:
These strengths have produced the following active commercial products:
Kantronics' markets include telemetry, wireless IP, SCADA, GPS Tracking and Automatic Vehicle Location (AVL), and HF e-mail. Our unique design engineering capability can solve application problems as either an OEM or end-user solution.
The heart of our telemetry modem, a proprietary embedded protocol (LSUB), allows seamless use of RF (wireless) telemetry instead of more expensive phone line or satellite systems. That allows oil and gas pipeline operators to avoid monthly airtime charges for their data transfer, without sacrificing reliability. The installation also causes little or no interruption in service.
No matter what your wireless data control needs are, we are here to make your job easier and more rewarding for you! We hope these pages will introduce you to our versatile product line and answer your questions regarding what Kantronics products can do for you.
If you don't find what you are looking for, or if you have more questions, please don't hesitate to e-mail us at [email protected] or call us directly at (913) 839-1470. We look forward to hearing from you.
Kantronics customers include
Kantronics quality, every step of the way:
The heart of Kantronics' success lies with the intricate process of coding the firmware. Countless man hours go into making sure Kantronics units are the 'smartest' in the industry.
Kantronics products achieve their legendary quality and reliability through time-tested, hands-on methods. A trained eye carefully checks components and performs a DC test to verify the connections and proper resistance. Every effort is made to insure Kantronics equipment works the moment it is put in operation. Each and every unit is then powered up by a highly skilled technician and run through a series of voltage and frequency verifications. The firmware has embedded test routines which allow the tech to verify all operations of the unit. We believe the customer deserves to have their modem work the first time, and every time.
Once the board passes these stringent requirements, it may either be shipped for OEM applications, or put into a housing to operate as a stand alone modem. Either way, it is then boxed for shipment with the manuals, cables, and host software as required. From our door to yours, we do everything possible to deliver the quality modem our customers have come to expect from Kantronics.
Kantronics Products At Work
Connecting Soldiers and Families...
October 14, 2004
Kantronics Attn: Cheryl Seiwald
Dear Cheryl and Kantronics Members,
I received the Kam-XL Monday by Fed-Ex and I wish to thank everyone for their efforts in supporting our military. This item will allow our troops to send and receive correspondence via any digital mode necessary.
I am not sure you really know how much you have helped. Messages (most MARSGRAMS) at this point have been sent to the Gateway in Germany and then mailed to troops in theater. With your help you have just reduced a ten to fourteenday delivery to approximately two to three day delivery process. This is an effort to keep soldiers and their family members closer.
Again, allow me to say Thank You for your support. ...
Sincerely,
James E. Holdeman
SSG, VaARNG
KG4YQP
AAT3NF
MARSGRAMS are messages between soldiers in the U.S. Military and their friends and relatives back home. You can learn more about them at www.marsgateway.net.
Delivering Telemetry in Antarctica:
Two Kantronics KPC-9612+ modems are operating without problems in Antarctica. They are part of a remote weather station, providing the data relay between the Odeil Glacier and the Air Traffic Controllers at McMurdo Station. The Odell Glacier is a 50,000 year old blue ice glacier. Typical operating temperatures regularly go below -40°C/F.
One of the modems was cold tested as part of certifying the relay for Antarctic conditions. (See more about the testing process here)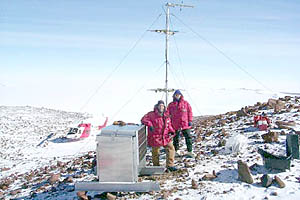 Ken Crawley with Kantronics equipment in Antarctica
The modems are operating in an unproto mode, modulating a UHF radio at the weather station, going to the Mt. Brook UHF/VHF relay at 10,400 ft, then going 125 miles VHF to McMurdo where the second KPC-9612+ sends the data down the mountain to the ATC office. The system has been operational for 2 years.
March 17 2005
Dear Ms Seiwald,
I would like to take this opportunity to express my sincere appreciation to all of the folks at Kantroincs for donating to my home town of Pensacola Florida a replacement Kantronics KPC-3+ used in our Amateur Radio (Ham Radio) APRS weather and special needs storm shelter digital communication system. Hurricane Ivan with it's 140+ mph gusts spanning over seven pre dawn hours here on Sept 16th took its toll, including human life. Over 45 percent of the homes and business structures were moderately to severely damaged from the storm. It will be some time before Pensacola and the surrounding area will look afresh and new again. But we endured as others have in times and places of disaster, and with the helping hand from Kantronics we are well on our way. With the unselfish act of giving to those in need, there will always be abundant blessings returned. When there is nothing more that can be said, I will say nothing except, thank you, thank you all at Kantronics.
Robert W Lawson W4RL

As Robert says:
"Kantronics Modems: The data you send, is what is received. At times lives will depend on that. Depend on Kantronics."