View / Download (PDF format)
Built on the proud heritage of the Kantronics KPC-3+, the very compact MT1200 and MT1200G Mobile Tracker allow users to transmit real-time vehicle tracking information for use in APRS networks or NMEA interface mapping software packages. Kantronics has developed the MT1200 units to meet the needs of today, with an eye toward emerging applications. Able to communicate in a variety of formats, including TCP/IP, and LSUB, the MT1200 units are seamless and transparent radio link substitutes.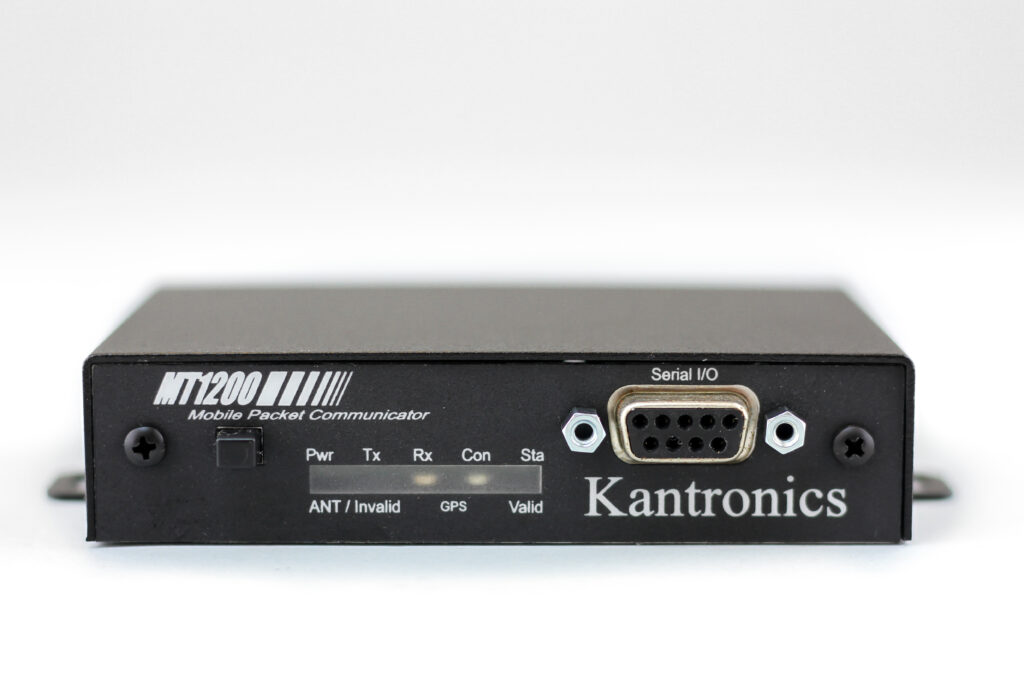 The MT1200 and MT1200G may be utilized within an existing packet network, using the Mobile Tracker unit as a mobile, and a Kantronics legacy TNC at the base. The basic Kantronics MT1200 may be used with an external NMEA GPS receiver and the Kantronics MT1200G includes an embedded GPS with active magnetic mount antenna. Both MT1200 versions include 512K flash memory for extended GPS or temetry data logging or storage.
Mobile Tracker units are ideal for a variety of roles. They are well made, engineered for dependability and low in cost. It's no wonder Kantronics units are in use around the world.
MT1200 Applications Include:
The MT1200 can be used in the field with a radio to form a mobile data terminal, or (with the internal GPS option or the addition of an external GPS receiver) a GPS mobile "tracker".
.
Dimensions (H×W×D)
0.95"×4.9"×3.0" (24 mm × 125 mm × 76 mm) (including mounting tabs)
Weight
4.8 oz (0.136 kg)
Power Requirements
Voltage
DC 12 V nominal
Current
< 35 mA (LEDs on, unit active, no GPS) <75 mA (LEDs on, GPS active w/antenna)
External Power Connector
RIA Connect RIACON series, type 169, 3 pin (31169103)
External Signal Ports
DB-9 female (radio port) DB-9 female (computer/data terminal) Telemetry plug - RIA Connect PlugCon series, type 374, 10 pin (ASP05110)
Analog Measurement Inputs (A/D Converter)
Two inputs; 0 V to +3.3 V, 8-bit accuracy
Radio Port
Data Rate
1200 bps
External Carrier Detect
Pulldown to ground (normal or inverted)
PTT Output
Open drain, max +60 V dc, max 115 mA max
Audio Output:
Level
Continuously adjustable from 1 mV p-p to 1.7 V p-p
Output Impedance
600 Ohm, AC coupled
Modulation
1200 bps FSK half duplex, Bell 202 1200 Hz/2200 Hz
Audio Input:
Input Sensitivity
5 mV p-p
Input Dynamic Range
> 70 dB
Input Impedance
Unbalanced, 10 kOhm (600 Ohm with jumper J3 installed)
Max Input Voltage
±12 V dc; 35 V p-p sinusoidal
General
Operating Modes
AX.25, KISS, XKISS, Linesub, MODEM
LED Indicators
Power, Xmit, Rcv, Connected, Status, GPS Ant, GPS Valid (user option on/off)
Remote Control Access
All controller functions, user-defined password
Operating Protocols
AX.25 Levels 1 and 2 (user-selectable)
Embedded GPS Receiver (MT1200G only)
Type
Trimble Lassen iQ GPS module
Operational (COCOM) Limits Altitude Velocity
18,000 m 515 m/s Note: either may be exceeded, but not both.
General Velocity
L1 (1575.42 Mhz) frequency, C/A code, 12-channel, continuous tracking receiver.
General
L1 (1575.42 Mhz) frequency, C/A code, 12-channel, continuous tracking receiver.
Accuracy Horizontal Altitude Velocity
< 5 m (50 %), < 8 m (90 %) < 10 m (50 %), < 16 m (90 %) 0.06 m/s
Acquisition times Reacquisition Hot Start Warm Start Cold Start
(Autonomous Operation in Standard Sensitivity Mode) < 2 s (90 %) < 10 s (50 %), < 13 s (90 %) < 38 s (50 %), < 42 s (90 %) < 50 s (50 %), < 84 s (90 %) Cold start requires no initialization. Warm start implies last position, time, and almanac are saved by backup power. Hot start implies ephemeris also saved.
Specifications subject to change without notice or obligation.
APRS® is a registered trademark of Bob Bruninga, WB4APR.
All registered trademarks remain the property of their respective owners.