View / Download (PDF format)
KAM-XL Firmware Update (ZIP, 225k) (latest rev, 02/19/2007)
(allow arqbbs link if vhf bbs in use, display of rtext through myremote link suppressed, fixes for mheard display and xkiss,changed handling of I and UI frames with no PID)
KAM-XL Firmware Update (ZIP, 215k) (latest rev, 12/13/2005)
(Refinements in message forwarding in nonpacket mailbox access)
KAM-XL Firmware Update (ZIP, 218k) (rev 08/11/2004)
The Kantronics original KAM (Kantronics All Mode) was a global revolution in digital communication. In Kantronics tradition, the KAM Plus evolved through customer suggestions and years of operating experience, making the Kantronics KAM Plus the most popular TNC on the global market. The KAM XL, Kantronics third generation multi-modem TNC is a state-of-the-art design giving the customer operations on both HF and UHF/VHF, while supporting DSP modems and popular new modes of operation.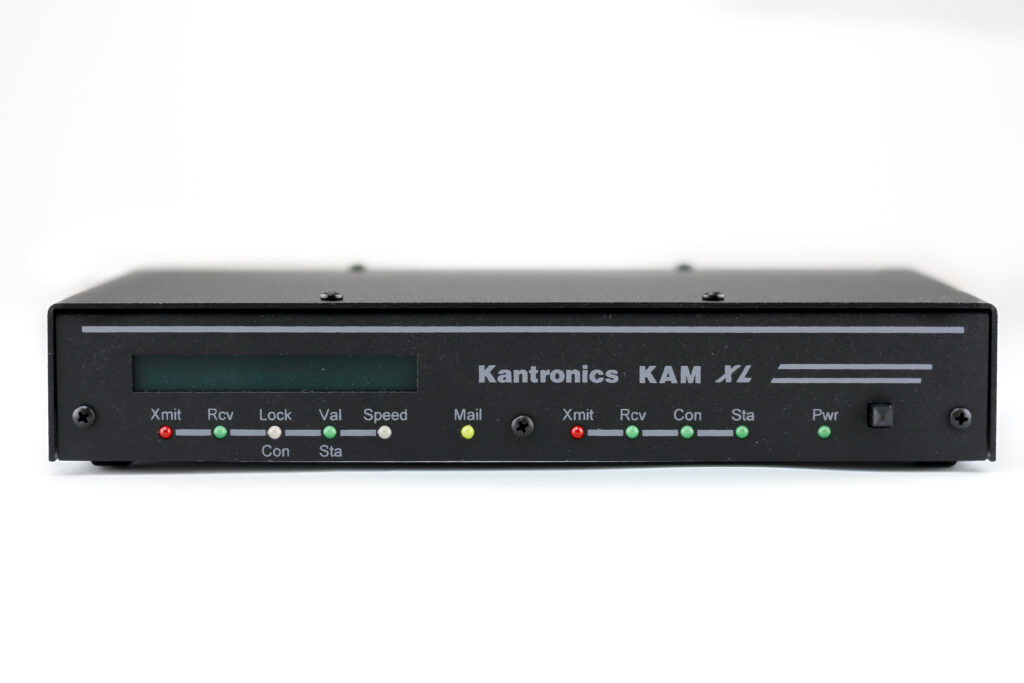 Kantronics KAM-XL was designed to operate in many different applications as the digital world continues to change. Engineered for years of dependable performance, the KAM-XL also includes room for new modes and upgrades well into the future. Kantronics, the pioneer in digital communications, now offers you 30 years engineering experience in the Kantronics KAM-XL.
Operating modes and functions include:
.
Dimensions (H×W×D)
1.4"×8.5"×4.6" (36 mm × 216 mm × 117 mm)
System Control Processor
HC12 with 512K Flash and 512K Battery-Backed RAM
DSP Chip
ADSP 2185M processor
Power Requirements
DC 10 V - 18 V, 150 ma
Power Plug
2.1 mm coaxial, center pin positive
External Connection Ports
Radio Ports 1 & 2: DB-9 female Computer Port: DB-9 female Aux. Port: DB-9 male Telemetry Port: DB-15 female
PTT Watchdog Timer
Approx. 2.5 minutes
External Carrier Detect
Pulldown to ground
Data Rate, Port 1
45-1200 bps
Data Rate, Port 2
300-9600 bps
PTT Output
Open drain, max +50 V dc
FSK Output
Open drain, max +50 V dc
Audio Output
Continuously adjustable 10 mv - 2 V p-p
Output Impedance
600 Ohm, AC coupled
HF Modulation
Up to 1200 bps AFSK
VHF/UHF Modulation
1200 bps FSK (Bell 202 ~ 1200/2200 Hz standard) 9600 bps GMSK
Audio Input
Dynamic Range
HF: >75 dB VHF/UHF: >73 dB
Input Impedance
10 kOhm or 620 Ohm
Max input voltage
±12 V dc; 35 v p-p sinusoidal
Operating Modes
Packet, PACTOR, GTOR, AMTOR, RTTY, ASCII, CW, WEFAX, NAVTEX/AMTEX, KISS, HOST, GPS, PSK31
Other Features
HF and VHF PBBS access, KA-Node, Packet Gateway and Cross Connect
LED Indicators
Power, Mail, Port 1 (Xmit, Rcv, Lock/Con, Val/Sta Speed, Tuner Bargraph), Port 2 (Xmit, Rec, Con/Sta)
Remote Control Access
All controller functions, user-defined password
External Reset
Pulldown to ground
Warranty
KAM-XL is protected by a one-year limited warranty to the original owner
Specifications subject to change without notice or obligation.
APRS® is a registered trademark of Bob Bruninga, WB4APR.
All registered trademarks remain the property of their respective owners.