View / Download (PDF format)
Kantronics, a pioneer in wireless data communications, now offers the KWM-1200+ Single Port and the KWM-9612+ Multi Port High Speed wireless modems. Both are engineered for dependable and versatile digital communications in the commercial operating environment. Kantronics has developed the KWM units to meet the needs of today, with an eye toward emerging applications. Able to communicate in a variety of formats, including TCP/IP, LSUB and TUP, the KWM units are seamless and transparent radio link substitutes. KWM units can also operate as a data-operated switch (DOX). KWM units can fill a variety of roles. They are well made, engineered for dependability and low in cost. It's no wonder Kantronics units are in use around the world.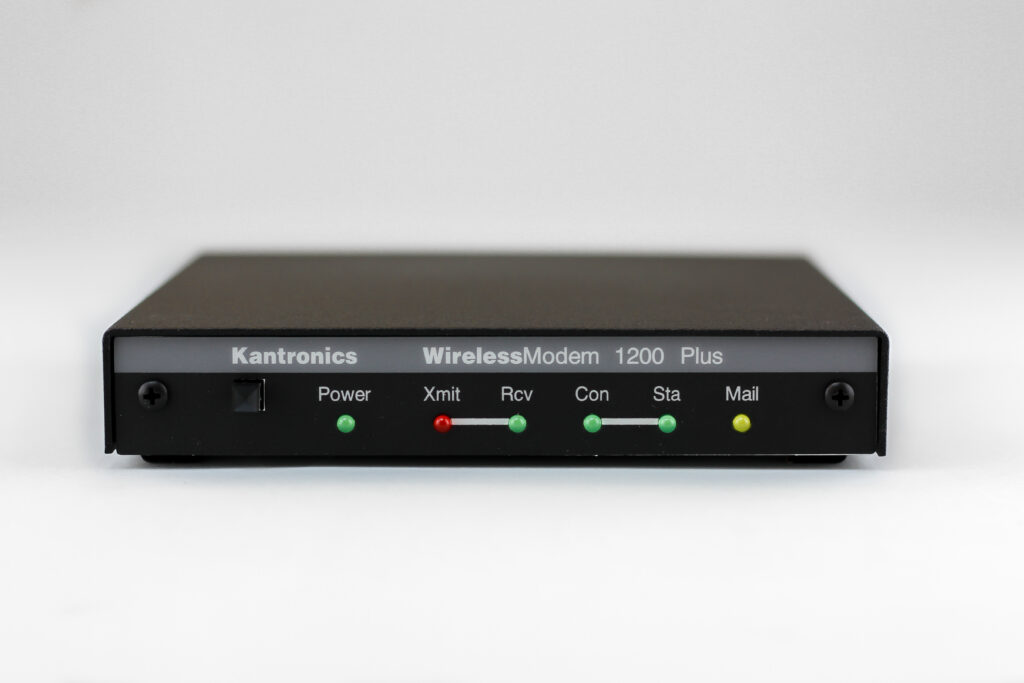 KWM-1200+ Applications Include:
The KWM-1200+ can be used in the field with a radio to form a mobile data terminal, or (with the addition of an external GPS receiver) a GPS mobile "tracker". Its broad supply voltage range (DC 6 ~ 25 V) allows for maximum flexibility.
.
Version
Commercial
Dimensions (H×W×D)
0.8"×5.2"×5.2" (21 mm × 133 mm × 133 mm) (without projections)
Weight
11 oz (0.32 kg)
Power Requirements
Voltage
DC 6 V to 25 V
Current
< 30 mA (LEDs on, unit active) < 15 mA (LEDs off, unit inactive)
External Power Connector
2.1 mm coaxial, center pin positive
Internal Power Connector
Circuit board accommodates user-installed 9 V battery connector
External Signal Ports
DB-9 female (radio port) USB type B (Computer)
PTT Watchdog Timer Period
approx. 2.5 minutes
Analog Measurement Inputs (A/D Converter)
Two inputs; 0 V to +5 V, 8-bit accuracy
Radio Port
Data Rate
1200 bps (default); 300, 400, 600
External Carrier Detect
Pulldown to ground
PTT Output
Open drain, max +50 V dc, max 200 mA
Audio Output:
Level
Continuously adjustable from 1 mV p-p to 4 V p-p
Output Impedance
600 Ohm, AC coupled
Modulation
1200 bps FSK full duplex CCITT V.23 1300 Hz/2100 Hz
Audio Input
Input Sensitivity
5 mV p-p
Input Dynamic Range
> 70 dB
Input Impedance
Unbalanced, 10 kOhm (600 Ohm with jumper J 3 installed)
Max Input Voltage
±12 V dc; 35 V p-p sinusoidal
General
Operating Modes
LSUB, TUP, AX.25, WEFAX, KISS, XKISS, HOST, GPS, MODEM, POLL
LED Indicators
Power, Xmit, Rcv, Connected, Status, Mail (user option on/off)
Remote Control Access
All controller functions, user-defined password
External Reset
Pulldown to ground
Operating Protocols
AX.25 Levels 1 and 2 (user-selectable)
Compliance
FCC Class B
Specifications subject to change without notice or obligation.
APRS® is a registered trademark of Bob Bruninga, WB4APR.
All registered trademarks remain the property of their respective owners.